PROMOTION CLOSED_A Game of Thrones Black Friday Celebration!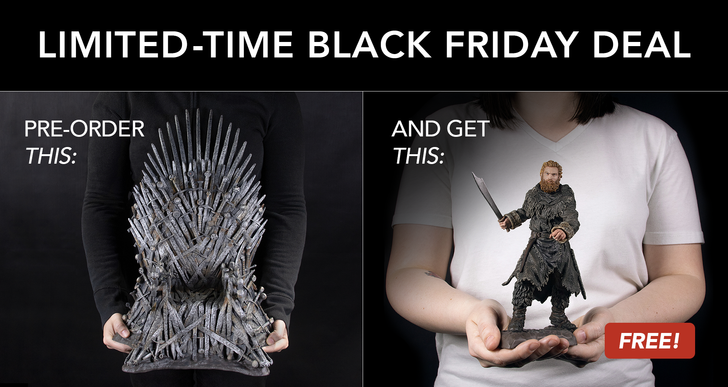 Celebrate Black Friday with Dark Horse Direct with a deal that will be sure to satiate your need for Game of Thrones until the Final Season premiers in April 2019! 
Pre-order one of our *stellar* Iron Throne 18" Replica Statues (Limited to 200), and we'll gift you a Tormund Giantsbane Figure for FREE. We'll also send it to you ahead of time while you wait for your Throne, but bears beware! Free Tormunds with your pre-order will only be available 11/22-11/26 (Wednesday through Monday). 
This would make the most perfect Holiday Gift for your loved ones by pre-ordering the throne for yourself and gifting your Tormund. It's the gift that keeps on giving! This offer also applies to all of our payment plan options, BUT if your pay in full you get FREE SHIPPING. 
Still not convinced of this awesome deal? 
Check out this beautifully detailed 360 turnaround video and realize that this Throne is large enough, your cat or small (dire)wolf could curl up and take a comfortable snooze in it!
Check it out!
BONUS POINTS if you can name the song from the Original Game of Thrones Official Soundtrack ;)
On a more serious note, on behalf of everyone at Dark Horse Direct and Dark Horse Comics, we want to wish you all a very Happy Thanksgiving with your friends and family. No matter what you do, enjoy your time together with those you love including good food, games, and the traditions that make your Holiday Season special.
Cheers!
The Dark Horse Direct Team
Share this